Now that you've learned what SEO Keywords are, let's break down the SEO keyword research process so you can choose the best SEO keywords for your website. Choosing SEO keywords is the foundation of any SEO strategy whether you are hoping to increase your website ranking, working on increasing your website traffic, or building your brand awareness.
Here, we'll break down the SEO keyword research process so you can generate keyword ideas, compare keyword difficulty and implement the use of keywords that will have the biggest impact on your business.
Four Steps to Choosing SEO Keywords
Step 1: Start With A Business Goal
Defining a SMART business goal is your essential first step to selecting the most effective SEO keywords and mapping those keywords to your on-page website content. Your goal may be based on building your brand or selling a service or product, but starting with your business goal is your first step.
Maybe you're a small business interested in increasing inbound leads or an e-commerce store gearing up for next year's Black Friday campaign. Once you know your business goal, you can use that as a guide for generating keyword ideas, doing keyword research and mapping your SEO keywords to your buyer's journey.
Step 2: Consider your Customer Buying Journey
In order to make sure you choose SEO keywords that convert, it's imperative that you understand your audience. After your business goal is fleshed out, your second step is to ask yourself these essential questions so you can better understand where your customers are at in their buyer's journey and how that connects to your overall goal.
Who is my target audience?
Who are you trying to talk to? What do you know about your customers? It may be helpful to create some personas or stories that represent your primary customers to help you visualize who you are trying to engage with.
Where are they in their online buyer journey?
Has your audience interacted with your brand before? Do people buy your product or service right away or do you have a long multi-step process before someone becomes a customer? You probably don't want to talk to a first time customer the same way you would to a loyal, repeat customer.
How would they search to find my product/service?
Put yourself in your customer's shoes. How do they find you? What would they type into Google to find your products or service? What problem are you solving for them? Are your customers using broad searches or specific searches?
Use your answers from these questions to guide you in implementing SEO keywords that will help you connect with your ideal customer when they are online. These can be used to connect with them right before they buy, when they are considering a purchase, or before they know your solution or product exists.
In addition to considering the customer journey, you also want to consider where your current customer spends time online. Knowing where they spend their time online can help you to generate keywords that are in language your customers actually use, making it more relevant to them.
When you think about your customers, also consider the questions they typically ask, what information they use during their purchasing journey, and why they would be looking for your product/service/website.
Taking the time to understand these insights about your customers will help you to rank well at many different points in your customers' purchasing process so you can remain top of mind and build a more sustainable pipeline. With your business goal defined and a solid understanding of your audience, we can get down to the nitty-gritty of keyword research.
Step 3: Generate Keyword Ideas
Once you have your goal and have considered your customers' journey, you'll be in a great position to start generating keyword ideas. Remember, it's important to choose keywords your customers actually use.
Pro Tip: If you are in a technical industry, consider using less technical jargon when generating keyword ideas unless your target audience uses those keywords. For example, instead of keywords like "ppc agency" we can use keywords like "online marketing agency".
Believe it or not, you can find SEO keywords without using any SEO tools. Your current customers are a great resource for keyword generation. Are there topics that are frequently asked about? Do they care about certain product qualities more than others?
Beyond current customers, there are hundreds of ways to generate additional keyword ideas. These are just a few of our favorites.
Search Engine Result Pages (SERP)
Finding great SEO keywords can be as simple as turning to the Google Search Engine Result Page (SERP). Simply start typing in what you think might be useful and see a list of suggested queries.
The SERP provides numerous options to glean keywords and you can even use it to help evaluate the difficulty of ranking for a keyword. For example, if your search produces a SERP dominated by Ads or shows results for a much larger competitor, you're probably going to have difficulty ranking for that word.

Another great tool on the SERP is Google's People Also Ask section. This box contains information that people are regularly asking related to your search keywords.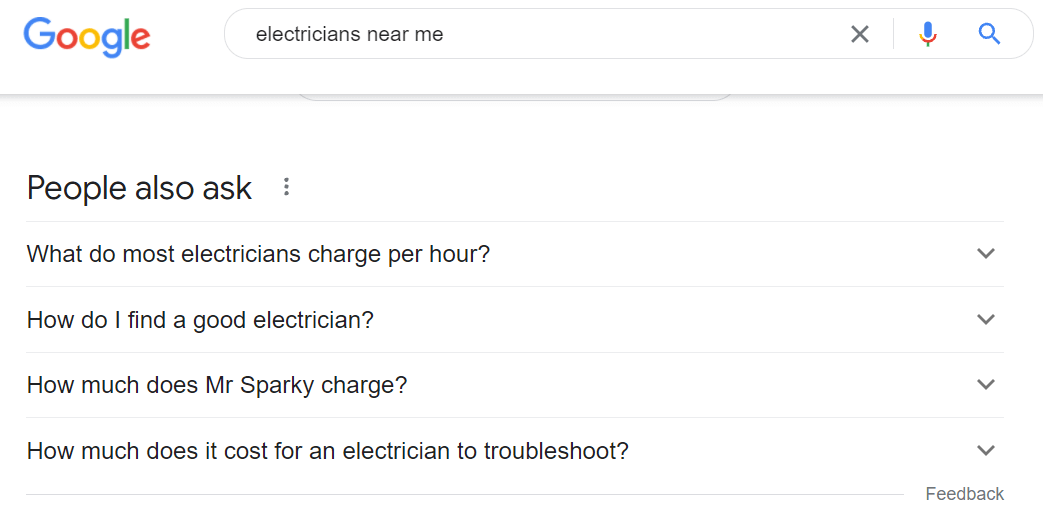 Answer The Public
Answer The Public is a free tool that produces unique keyword breakdowns related to Who, What, Where, When, and Why questions. This is a tremendous resource to generate long-tail keywords and creating content to answer your customers' FAQs.
Social Media Sites
You can also use the search query bar on social media sites like Pinterest to generate keyword ideas for your topic. You can also look at trending or popular topics on Reddit or Quora to find even more keyword ideas. If you know your ideal customer uses a particular social media site, use that site to generate keyword ideas.
Take all these and ideas and collect them in a document.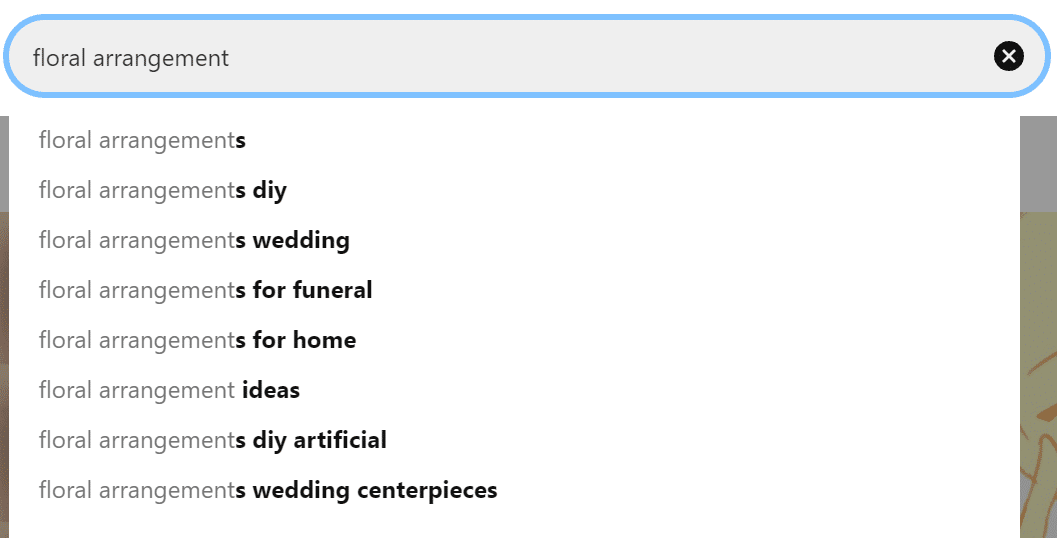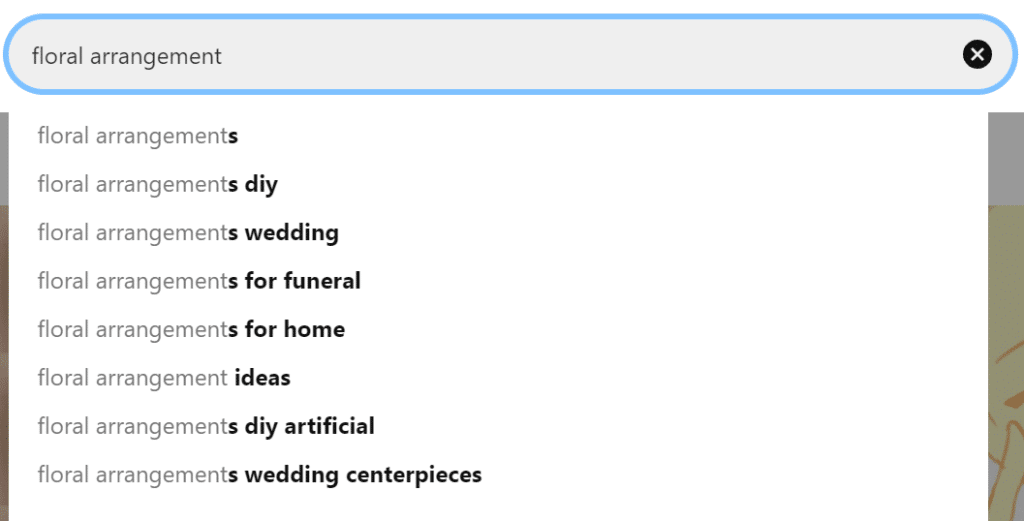 Step 4: Choose SEO Keywords
Now that you have your list of keyword ideas, it's time to choose the keywords you want to target. So how do you narrow your list and choose the keywords that will have the largest impact? This is going to depend on your business and the goal you set and to help along the way, here are a few key metrics you can look at to help you choose SEO keywords and tools you can use to find those metrics.
Three Essential Keyword Metrics To Consider
Search Volume
Keyword search volume refers to the number of searches for a particular keyword in a given timeframe. This data is often contextualized within specific locations or time frames to show how certain keywords can drive traffic over time. Keep in mind that seasonality can play a part in current search volumes so if you are in peak season, you may be experiencing much more traffic than when you are in low season. To check search volume you can use Google Ads Keyword Planner, which provides search volume estimates. (It's completely free, you'll just need a Google Ads account.)
Trends
Keyword trends can include interest over time, interest by region, and related search queries for each keyword. You can use a free tool like Google Trends to find this information for the keyword ideas you generate. Simply go to the Google Trends website and enter the keywords you'd like to check. You can sort by category and region for more specific trend information. Try typing in a few variations of your keywords to better understand which variations are more commonly used or trending.

Keyword Difficulty
Keyword difficulty refers to how easy or difficult it is to rank for that keyword, or in other words, how competitive a keyword is. In general, a keyword with a higher search volume is likely to be broader and more competitive.
You can get an understanding of keyword difficulty by looking at other businesses ranking for that keyword on the search engine results page. If large, well-known businesses fill the first and second pages of search results, this is an indicator that this keyword has higher competition and the keyword's difficulty is likely high.
Another indicator of difficulty can be found using Google's Keyword Planner. Although this free tool is typically used for Google Ads planning, there is a column in Keyword Planner that indicates keyword competition. If ad competition is high, that is likely an indicator that the organic competition is also high.
Given Google processes over 3.5 billion searches per day, it only makes sense to tap into their free resources to help choose SEO keywords. To access Google's Keyword Planner you will need to login to Google Ads, go to Tools, and click Keyword Planner. From there you'll be able to enter your keyword ideas to find out what the competition looks like.
Pro Tip: You can also enter your website into Google's Keyword Planner to generate additional keyword ideas based on the content currently on your website.
An Example of How To Choose SEO Keywords
To help you better understand how to choose SEO keywords from start to finish, let's take a look at a specific example of choosing SEO keywords for a flower shop – step by step.
Step 1: Setting Goals
The shop owner decides her business goal is to increase sales of wedding flowers. Specifically, the shop owner wants to increase wedding flower sales by 30% over the next 12 months. To do so, the shop needs to increase website traffic by 60% if their conversion rates and average wedding order value remains stable.
Step 2: Consider the Stages of Your Customer-Buying Process
Although the flower shop currently has two target audiences for wedding flowers – brides-to-be and wedding planners, the shop decides to focus on the brides-to-be. The flower shop owner knows that many of their brides look at websites like Pinterest and theknot.com to generate ideas when planning. Then they use Google to search for wedding florists in their area or for their specific wedding venue.
Step 3: Generate Keyword Ideas
To generate keyword ideas the florist uses Pinterest to find popular searches.
This is great! Looking at the list you see a few wedding flower search trends. One, it looks like people search for wedding flower ideas by season and by flower type and color.
So the flower shop keyword list now includes wedding flowers by season and wedding flowers + top wedding flower types.
Next, the shop owner searches "wedding flowers" on Google.
Using the automatically generated suggestions, the florist now has more keyword ideas.
There are also suggestions in the People Also Ask section of the search engine results page.
Step 4: Choose SEO Keywords
To understand the trends and keyword competition of these keyword ideas the florist enters her keyword options into Google Trends and sorts on the United States.
Based on these keywords, "best wedding flowers" and "wedding flowers fall" have the highest interest over the past 12 months. As one might expect, "wedding flowers fall" searches seem to increase from summer to early fall.
Next, the flower shop owner enters her keyword ideas into Google Ads Keyword Planner.
Based on the information in Google's Keyword Planner, "wedding flowers fall", looks like one of the highest volume keywords, and has one of the lowest associated costs so we can infer the difficulty for this search is relatively low. So the flower shop owner decides this is a great keyword to select. It's trending, has a higher monthly search volume than other keyword ideas, and fall is not one of the busiest wedding seasons for her flower shop, which means there is likely more opportunity to sell more wedding flowers during this season.
The florist goes through her keyword ideas and ends up choosing ten target SEO keywords which she will create new content for in order to incorporate into her website & improve her search engine rankings, boost website traffic, and help her to reach her business goal of increasing wedding flower revenue by 30% over the next 12 months.
Conclusion
Let's recap. Choosing SEO keywords is the foundation of any SEO strategy. When choosing your SEO keywords, always start with a business goal. Then, think about the stages of your customer buying process and where your target audience spends time online during their purchase journey. Use the language your current customers use and topics they care about to generate keyword ideas. Once you have a list of keyword ideas, compare keyword difficulty, search volume, and trends over time to choose the most valuable SEO keywords for your business and goals.