Here you'll find 7 highly valuable local SEO tips and tactics that you can use to grow your business by reaching more customers online.  

Improving a website's findability on the internet with search engine optimization (SEO) can have a dramatic impact on any business. Applying SEO tactics to improve your local business website is no different. In fact, SEO can have an even greater impact on local businesses if you consider that, according to a 2014 Google report, "4 in 5 consumers use search engines to find local information."

If you find you are struggling to reach your local customers via your website, don't worry – all hope is not lost. You can use these 7 practical SEO tips to increase your website's reach and improve your business performance. These search engine optimization techniques apply to all local businesses; however, we have focused our examples on Bend, Oregon because it's where our business is located.
Don't have time to read this now? Jump to the Key Takeaways section for the very abbreviated version.
Let's Get Started
This information is meant for local businesses who already have a web presence, but aren't seeing the results that they would like. If your business does not yet have a website, this information will be more helpful for you to keep in mind as you build your website and online presence. Knowing this information before you start will help you to avoid having to correct or redo things you have already started. The tips below are organized into two sections: SEO Basics and Local SEO Tips and include practical tactics you can employ today to boost your business' online presence.
SEO Basics
To really benefit from the local SEO tips in this guide, you'll want to make sure your website is taking advantage of some basic search engine optimization tactics. Below are three SEO essentials you'll want to use to really get the most out of the local SEO tips included here.
Make Sure Your Website is Secure
Security is important not only as a trust signal to your current and future customers, but also to search engines. Search engines, like Google and Bing, are looking at your website and deciding if you have information that is worth showing to the users who are entering web searches related to your business. Having a secure website will let these powerful search engines know that your website is safe and data is protected.
Back in 2014, Google announced that they would use HTTPS as a ranking signal. Later in 2016, Google shared "A web with ubiquitous HTTPS is not the distant future. It's happening now, with secure browsing becoming standard for users of Chrome." Knowing that Google is working toward a web with secure connections on every website means that while this may have started as a minor ranking factor it may have more impact on your website's ranking in years to come as https becomes the norm for you and your competitors.
To check if your website is secure, open a new tab and type in your website URL. If your site is secure, you will see a lock next to your URL, like the below.
If your website is not secure, you will an 'i' inside a circle and the words 'Not secure' next to your URL just like the below.

If you see this, it's time to get your security certificate. Most web hosts or website domain registrars offer the option to purchase website security certificates for a small annual fee. We recommend checking with your host or registrar first and then looking elsewhere if they don't offer the option to purchase a security certificate for your website.
Use a Sitemap for Your Website
What is a sitemap? A sitemap is a page on your website that helps search engines efficiently crawl and index your website. If your website is not crawled and indexed it won't ever show up in search results and the only way to reach your website would be for a user to type in your website domain name directly. For example, if our website was not crawled or indexed, anyone visiting would need to type in intigress.com directly in order to find our website. This is problematic when you are trying to reach new customers via your website.

Sitemaps also help to ensure that all published pages are crawled and they can provide specific information to search engines, such as how often your website pages are updated with new information – a signal that can help determine how often the page is crawled. For those DIYers out there, check out this information on building and submitting a sitemap.

PRO TIP: Set up and verify your website with Google Search Console. It is a free tool from Google that you can use to request your site to be crawled and indexed by Google. It can also tell you which pages of your website have been indexed and if there are any errors preventing indexing of your pages or problems with usability. You can also set up Bing's version of this tool, called Bing Webmaster Tools.
Create Web Pages With Only One Focus
Don't try to put all the information about your business history, your services, your contact information, your pricing, and your process on one or two pages. It is better to include one topic (usually revolving around a keyword, keyword phrase, or related keywords) per page. SEO at its core is making sure your content is user-friendly and search engines can understand it. When you lump lots of important information together on one page, this often decreases the user-friendliness of the page and can confuse search engines on what the page is really about.
Let's look at a simplified, hypothetical restaurant search as an example. Restaurant A has a one-page website that includes all of its information: menu, about, hours of operation, contact details, customer reviews, and awards. Restaurant B has separate pages for each of these. A user is hungry for lunch and searches for "Mediterranean restaurant near me" while in downtown Bend. Assuming all other things are equal about the restaurants, the about page for Restaurant B, which tells its users, it is "a Mediterranean restaurant featuring fresh, local ingredients, located in downtown Bend" is more relevant and helpful to the user's search than the single page Restaurant A has, which says the same thing.
Why? Because when visiting Restaurant A's page the user may need to scroll and search to find the information that says it is, in fact, a Mediterranean restaurant and where it is located. When visiting Restaurant B's website the user knows right away that the restaurant is Mediterranean and where it is located, which was the original intent of the user's search.
Because a search engine also wants to show users the most helpful information, it likely shows the about page for Restaurant B higher in the search results, which makes it more likely to be visited. The search engine also knows the topic of Restaurant B's about page is "Mediterranean restaurant in downtown Bend"; whereas, it isn't sure if the main topic of Restaurant A's page is "Restaurant A Lunch Menu", "Mediterranean Restaurant in Downtown Bend", or "Restaurant A Hours of Operation" because all of those topics are covered on a single page.
Take a look at your business' website and pick one topic per page. This will not only help your business appear more often for relevant searches, but also may help your business appear for more specific searches because of the better user experience your website can offer.
Now that we've reviewed some basics, let's dive into the local SEO tips you can employ to help your business increase its online presence in your local market.
LOCAL SEO TIPS
Before we dive in, what do we mean by local businesses? When we say local business we mean businesses that are focused on customers in a local service area. For example, a dentist serving customers in Central Oregon or a brewpub located in the Box Factory in Bend. Simply put, businesses that primarily serve customers in the area they are located. The following 7 local SEO tips are designed to grow your business by increasing the visibility of your local business online, bringing you more customers, and increasing the value of your website.
Tip #1: Make Sure Your Website Is Mobile Friendly
This tip is not specific to local businesses as all businesses should have a mobile-friendly website; however, it can have an enormous impact on local businesses specifically. Information from a 2014 Google study revealed that "50% of consumers who conducted a local search on their smartphone visited a store within a day. 18% of local searches on smartphones lead to a purchase within a day."
This information provides insight into how incredibly important it is for local businesses in particular to have a mobile-friendly website. If you are unsure if your website is mobile-friendly, you can use Google's Mobile-Friendly Test, a free tool that provides information on the mobile-friendliness of your website.
Tip #2: Consistent NAP+W
Make sure that your business name, address, and phone (or contact information) and website is consistent across all online business listings and matches your website's structured data. This information is what is known as a business' NAP+W. Having a consistent NAP+W means that users and search engines are aware that all of your business profiles are related and provides a consistent experience [read: more helpful experience] for users.
So what are we talking about when we say business listings (also sometimes called business citations or business profiles)? This would include:
Facebook Business Page
Yelp Business Page
Twitter Business Profile
Google My Business
Instagram Business Profile
These are just a few of the many places your business could be listed online, beyond your website. Often the listings you choose will be dependent on the type of business you operate. When updating the NAP+W information on each of these profiles, be sure it all matches exactly to your structured data. If your business is on "Third Street", don't use "3rd St" in your business listings.
Let's look at our own business, Intigress LLC, as an example. If we list our business name, Intigress LLC, as Intigress, LLC (with a comma) or just Intigress (with no LLC), it creates confusion for search engines and potential customers. Therefore, when listing your business, it is necessary to keep NAP+W information EXACTLY the same, as even these slight variations in consistency can prevent you from getting the most out of your business listings.
PRO TIP: Use this structured data testing tool to test what information is currently included in your website's structured data.
Tip #3: Set up and Claim Your Business Listings
Because you now know the importance of keeping your business information consistent across business listings, it's important to also set up and claim these local listings. If you haven't claimed these listings, it means you aren't controlling the information that is included, which could lead to inconsistency. Claiming or setting up these listings can also help your business take up more real estate on the search engine results page (or SERP).
Whoa – now you lost me! What does taking up more real estate on the SERP mean?
This means when someone searches for your business on Google, the results they are shown can include not only your website pages, but also, your Google My Business information, your business' Facebook page, your Yelp page, and any other business pages or profiles you might have. When this happens, it means people searching for your business might only see your business among the organic results on the search page and none of your competitors' information.
Let's look at a search for the local pet shop Bendy Dog** as an example.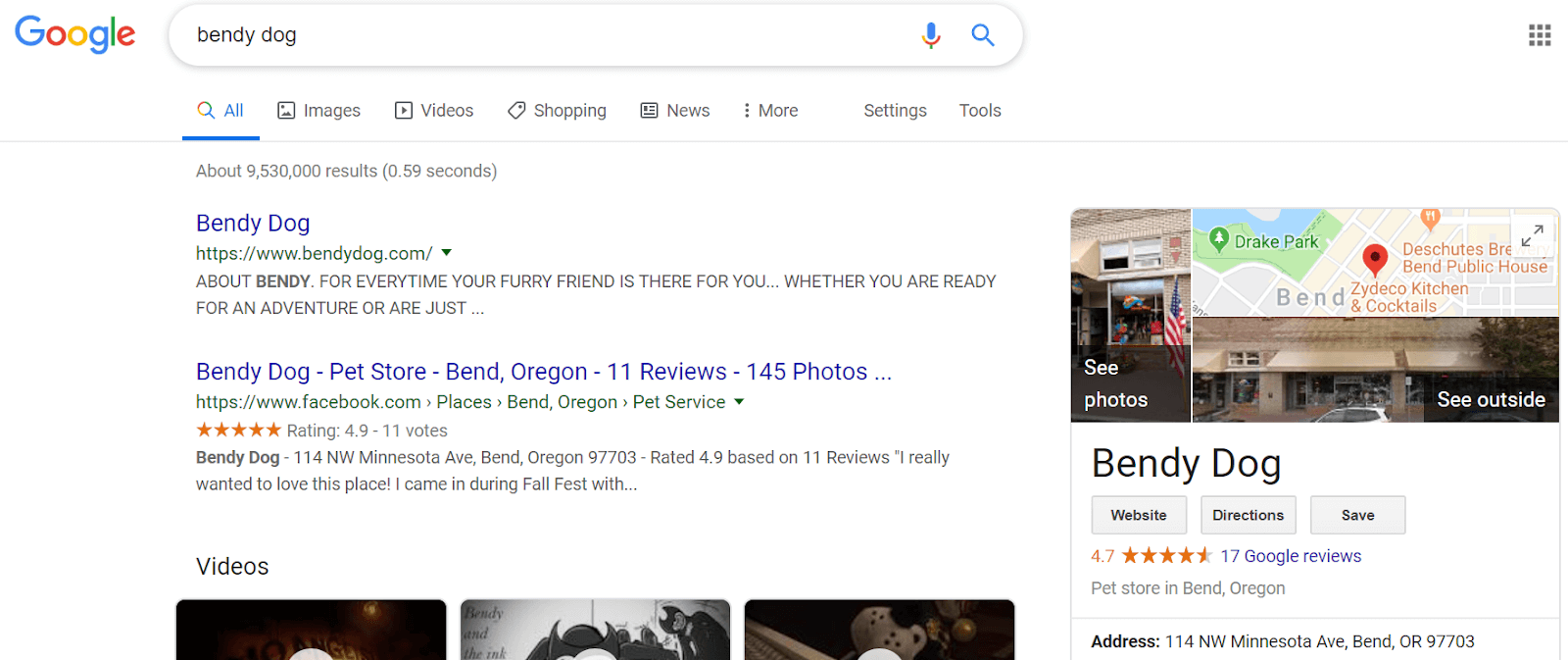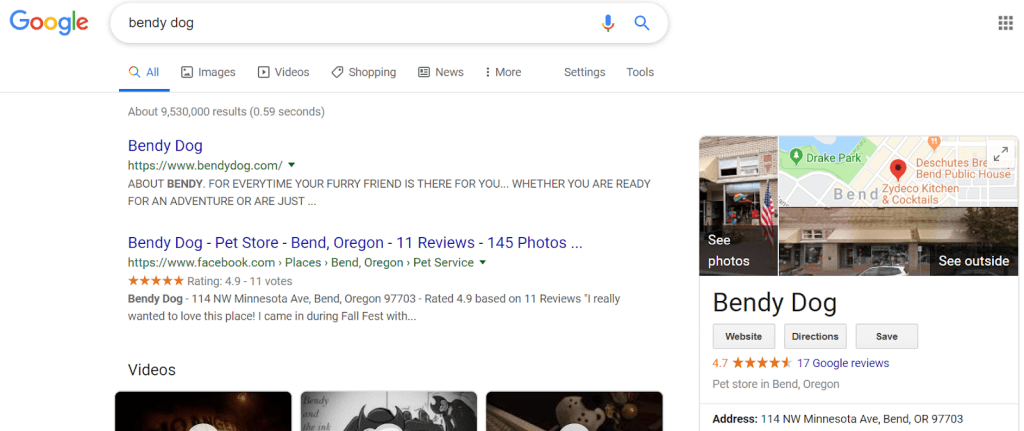 You can see in the screenshot above that their Google My Business side panel information shows up on the results page in addition to their web page and their Facebook page. Because they have claimed these business profiles and used consistent business information, the search engine knows they are all related. With all of these listings appearing, their business now takes up the entire search engine results page view "above the fold". (Above the fold means all of the information you can see on the search engine results page without scrolling.) If they didn't have these business profiles or their information was not the same across all profiles, this may not happen and another pet shop in Bend might also appear above the fold on the search engine results page. This could then drive users to look at other options instead of simply visiting Bendy Dog, the shop they originally searched.
One last thing, when you set up these other profile's be sure to fill in all relevant business information such as services offered and details about your business as well as add a few photos. This provides even better information for users if they visit your business on one of the listing platforms, which can then lead to valuable actions like store visits, phone calls to your business, purchases, or requests for appointments.
PRO TIP: It is recommended that you create or claim* your business' Google My Business profile at the very least. This profile allows searchers to see important information about your business (hours, location, contact information, reviews, etc.) without leaving the search engine results page. This can provide greater convenience for your users as well as help Google better understand your business, which can ultimately lead to better visibility for your business on the search engine results page.  
Tip #4: Respond to Customer Reviews
Now that your local business has a few business profiles, your customers might start leaving reviews. If they don't, it can be a good idea to develop a strategy to earn more reviews from your customers. Reviews, especially positive reviews, are a trust signal to both customers and search engines that your business is reputable.
Pro Tip: Be sure that you are earning reviews from actual customers and not just soliciting them. If reviews for your business are not genuine, this could result in a penalty for your business as well as cause your business to lose the great reputation you are trying to earn.
Once you receive reviews, it is important to also respond to these reviews. When responding, be sure to include your business name and location in a natural way. For example, instead of saying "Thank you for your review! We value your opinion", you can say something like "Thank you for your review of our Bend, OR location. We value your opinion. Regards, the team at [Your Business Name]." In this second example, you have provided more detail about your business in a natural way. Using these keywords (your business name and location) provides another clue to search engines that the reviews you are receiving are relevant to your local business.
Tip #5: Keep Your Business Information Current
For many businesses, store hours and services offered may change throughout the year. Some businesses also offer special events. If this pertains to your business, be sure these changes and events are reflected on your website and each of your business profile listings. For example, if your business operates rafting tours during certain months of the year, be sure the time frame is clearly noted on your website. Even better might be for you to dedicate a page to the services you provide during the summer months and include what months are considered summer months. This eliminates confusion for your customers. Likewise, if your operating hours change throughout the year or over certain holidays, make sure your hours of operation are always current on your website and any business profiles you have. Just as it is important to maintain consistency in your NAP+W information, it is important to maintain consistency in your hours of operation across profiles.
Why? If a potential customer looks at your Google My Business profile information and it says you are open until 8pm on Tuesdays, but your website says 10pm, this can be confusing and cause your business to miss out on this potential customer who decides to go somewhere that he knows is open at 8:30pm. This is the same reason you'll want to make sure any event information is also kept up-to-date. This not only helps your website performance, but it could help to avoid phone calls of customers calling to confirm whether or not you are still doing a happy hour on Wednesday or the drop-in yoga class at 10am on Sunday. The bonus is this will also free your staff from having to spend time fielding these type of calls.
Tip #6: Create Content Tailored to Your Location – BE RELEVANT
This content can be posts on your Facebook page or Google My Business profile, or full blog posts on your website. Whatever content you are putting out there – be sure it is specific to your local customers. For example an HVAC company could write about why someone should winterize their home and how to do so; however, even better would be to include something more specific such as when Bendites should winterize their homes or how to winterize your Bend vacation rental. Think about things you'd want to know if you were your own customer and work those topics in keeping them specific to your local constituents. The more specific and relevant you can make them to your local market, the better. Use these content pieces as a chance to show your expertise and that you understand your local customers.
Tip #7: Utilize Listings on Other Local Websites
Think about adding your business to a local website directory like NextDoor. Also, consider becoming a part of local organizations like the Bend Chamber of Commerce. Depending on your business, including your business information and website link on these local listing sites can have a positive impact on your business' website presence. This is because these local resources often have a higher domain authority, meaning they are reputable and trusted. Some of this reputation and trust can transfer to your business when they link to you.
Along a similar line, if you have a public event coming up or a weekly event, you can post these on local websites to get the word out and to gain some of that local domain authority. Consider locally focused sites like your local newspaper, The Source Weekly, or visitor information site, Visit Bend.
Why? Often these sites will offer a free listing of events with links to the event information to help those who are interested to find out more. This link back to your webpage can then help your website presence as more trust and credibility is transferred.
Conclusion
Using these 7 valuable local search engine optimization tips can have a large impact on your business' website performance and overall business growth. These tips will help your business to reach more of your local customers when they are looking for the services and products you offer.
As you've learned here, it is important to keep your business information up-to-date, relevant to your local audience, and consistent, so don't stop working on SEO once you've gone through and applied these tips. Monitor each of these items on a regular basis, so that your information and local presence continues to grow.
If you need help, have questions, or you are ready for more advanced SEO tactics to help your local business, contact us. We are happy to help.
---
KEY TAKEAWAYS FOR IMPROVED LOCAL SEO PERFORMANCE
Start with the basics. If you don't have these implemented, the other things you do to improve your local SEO won't have as big of an impact on your business as they could.
Keep your business information consistent & up-to-date across all platforms and listings.
Make sure your website is mobile-friendly.
Provide content and use language that is specific to the customers in your service area. The more relevant & specific, the better!
Consider using local-specific listing sites to get the word out about your business and your business events, and gain authority for your website at the same time.