Constant change in the search engine optimization (SEO) world always makes for an interesting trends outlook. But even with all the changes, we're happy to say that core principles of SEO like user experience and the importance of Google Business Profile for local businesses remain the same.
Other SEO trends continued on their path of growing importance, like rich results. At the same time, we're also excited to be able to highlight a few newcomers to our list of the top 7 SEO trends 2022 like Google Discover and new methods of search like multimodal search. Let's jump in!
Looking for last year's trends? Check out the Top SEO trends 2021.
SEO Trend #1: User Experience
If we learned nothing else in 2021, we learned that user experience continues to be one of the most important factors in a website's SEO performance. Why? Well, the general rule of thumb is that search engines work because they give their users the information, content, or experience that the user is looking for. The more a website can create this experience, the more likely it is that a search engine will want to surface that website's content in order to continue to provide its users with this great experience.
This SEO trend is nothing new for 2022. In fact, it's really the core of any SEO strategy for any year, but there were changes in 2021 that only strengthened user experience's position among the top SEO trends, especially in 2022.
In 2020 there was a lot of buzz about Page Experience signals, which include Core Web Vitals, as a ranking factor for websites on Google. Although the rollout of these signals was delayed, last year Google confirmed that they would be rolling out page experience signals as a ranking factor for desktop beginning in February 2022.
Page experience signals are a combination of metrics measuring exactly that: the experience a user has on the website. This includes protecting a user's security, no disruptive pop-ups or changing layouts, how fast a site loads, and other factors.
In addition to page experience, Google also updated how it uses links between websites last year. This was part of an effort to continue to crack down on spammy link-building schemes that might artificially boost page rank for websites participating and continue to serve the highest quality content to its users.
Within the search engine results page Google also rolled out an About This Result feature in February last year, which allows searchers to understand more about the source of the result and why it appeared in the results for that particular query.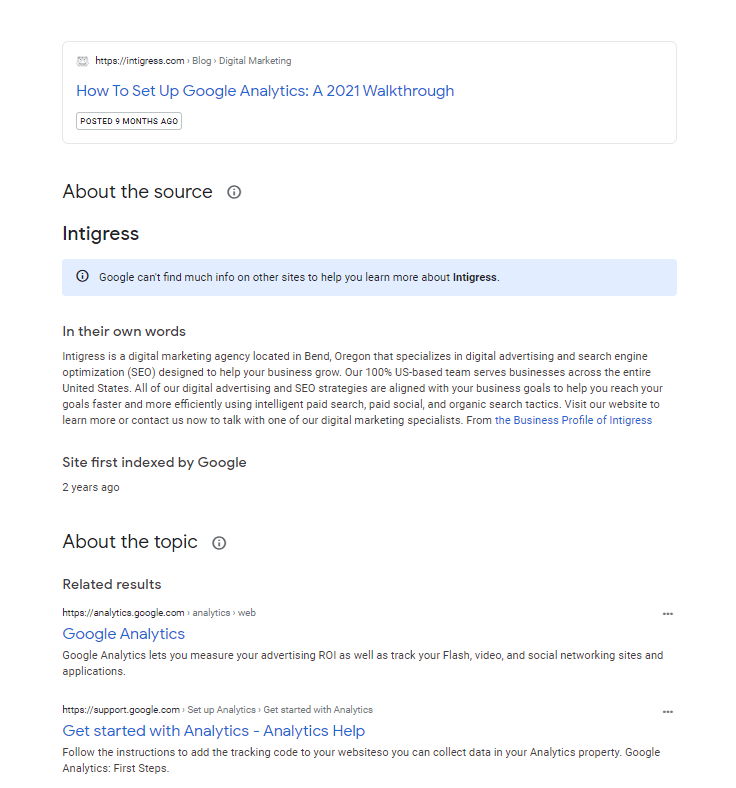 Bottom Line: These continued investments in improved user experience are why user experience tops our list of SEO trends 2022. Any business that isn't focused on the experience they are delivering to their users as a key part of their SEO strategy will have a hard time realizing results.
SEO Trend #2: Rich Results
This is another SEO trend we've seen heat up over the past year. Even though it was also on our list of top SEO trends 2021, we couldn't leave it off the list of top SEO trends 2022 either.
Rich results are search results beyond the standard website links that appear on the search engine results page. This includes results like answers to questions in the People Also Ask section, video results, product results, recipe results, and so much more.
Throughout 2021, we saw an increase in rich results frequency and type, making this type of result more of an expectation. Take a look at the below example of search results for the search "how to slice a pineapple".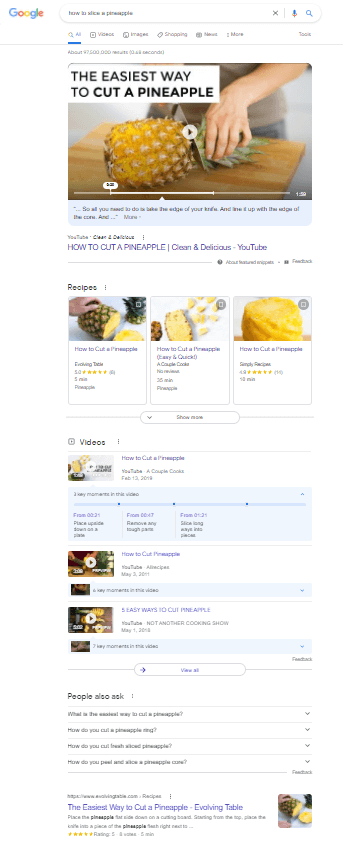 Not only are there rich results, but the rich results that appear – the featured snippet (in video format), the recipe links, more video results, people also ask section – all appear before any traditional results (the website links).
Also, note the rich results in this example take up all of the above-the-fold content aka the best real estate on the search results page.
Even when you get down to the traditional results, you can see they all incorporate some additional features, like ratings, images, a time frame for how long slicing a pineapple might take, all of these enhancements are included in rich results.
And how does this happen? For the most part, Google is using the website's structured data, along with traditional page elements to surface these enhanced, rich results.
For any website to compete in this type of rich result environment it's essential to make sure that any relevant structured data is in use on the website to have the opportunity for the website to appear in rich results on the search engine results page.
On top of this, Google made adjustments to the way it shares data about rich results with website owners in Google Search Console. You can now see a breakout of the rich results your website is eligible for along with any issues that might be preventing those results.
Previous to last year, any performance information on rich results was limited to a general category with all rich results information lumped together under this umbrella category, but in 2021 you can now see a breakout of this information within Search Console.
Pro Tip: If you aren't using Google Search Console – don't wait. It's one of the best free tools you can use to improve your SEO performance. You can find instructions on how to set up Google Search Console and verify your website here.
Bottom Line: With the new investments into rich results reporting and the increase in rich results on the search engine results pages, it's clear that rich results are becoming the standard. If you haven't already taken advantage of the opportunities for your website to incorporate structured data, this is something you want to prioritize in 2022.
Pro Tip: Take a look at Google's Search Gallery or Bing's information for the full list of rich result options available on each search engine.
SEO Trend #3: The Rise of Video in Search
Right along with rich results in general seeing a rise, we're also looking at video results on their own appearing more and more often in search results.
This trend in the importance of video hasn't developed in a bubble, it's growing right alongside the increasing importance of video on traditional social media platforms as well as rising popularity of new(er) video focused social media platforms.
It's also no secret that Google owns YouTube, which makes perfect sense for the business to bring more of that video content into the results as this type of content grows in popularity with users.
This past year Google showed its commitment to increasing the usability of videos that appear in search results with the introduction of new markup styles and improvements to video resources as well as updates to current features like key moments.
These enhancements led to the ability to see not just the video, but a specific clip of the video that matches a search query in the video search results.
It's Google's continued investment in video search and continued growth in video popularity with consumers that put the rise of video in search on our list of top SEO trends for 2022.
Bottom Line: If you've already invested in video for your business, make sure it's at peak discoverability on Google by investing in available schema markup features. Video in search isn't going away anytime soon, so if you haven't yet invested in video for your business, now is a great time to consider this option.
Pro Tip: Not sure if your videos are showing up in search or if you've enabled video markup correctly? Take a look at the information under the enhancements section in your Google Search Console account. You can also view video performance in Google Search Console by sorting on video as the search type within the performance tab.
SEO Trend #4: Ecommerce Search (Shopping Results)
In addition to highlighting video search results as a top SEO trend 2022 on its own, the same goes for eCommerce results in search.
"There are now over a billion shopping sessions on Google everyday…"

Source: https://developers.google.com/search/blog/2021/07/deals-best-practices
With over a billion shopping sessions, it's hard to ignore the importance of this growing category. And this trend is another one that is not growing in its own SEO bubble as recent years have really spurred the increase of shopping transactions online.
To make things more convenient for its users (see User Experience), Google introduced new features & guidance to help eCommerce businesses improve their visibility on search. This included additional guidance on deal pages, best practices for product information, and information on using video in eCommerce (no surprise here, see trend #3).
In fact, within a blog post in February 2021, Google wrote "Google's mission is to organize the world's information, and organizing product information for shoppers and retailers is an essential part of this mission."
This makes it pretty clear how Google, the world's most popular search engine, feels about the future of eCommerce in search.
And this commitment doesn't just apply to the traditional search engine results pages, eCommerce has its own specific search tab: Shopping results.
Since shopping listings became free for retail businesses in 2020, it seems like search and shopping go hand in hand and we only expect this trend to continue to expand in 2022.
Bottom Line: If you are selling online, eCommerce search results are something you can't ignore in your SEO strategy in 2022.
Pro Tip: You'll need a Google Merchant Center account opted into free listings & a product feed to get your products into the free listings on the Google shopping tab.
SEO Trend #5: Google Discover
Google Discover is an interest-based feed that appears on Google's home page for mobile users. All web pages that are indexed and eligible for traditional search results are also eligible to appear within Google Discover feeds (as long as they don't violate any policies).
Although Google Discover placements aren't related to search results, we're still including Google Discover here within our top SEO trends 2022 because these results are still surfaced from the Google index, just like regular search results.
Additionally, performance in Google Discover is now included in the information found in Google Search Console. This information was also updated over the past year to include not just in-app performance, but also any performance metrics from users browsing in Chrome.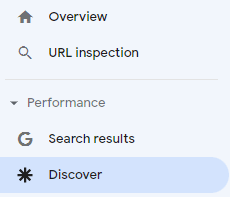 Google Discover is simply another way for websites to be found online and can be a great way to get in front of the right audience because the platform is interest-based. Although it's been around since 2018, the investments in sharing Google Discover performance metrics with website owners last year is a sign it isn't going away in 2022.
In addition to traditional webpage links, the Google Discover feed can also include video results. And because the feed is personalized there is also an option for users to specifically select to have links from certain websites appear in their Google Discover feeds by following a website.
For full information on Google Discover feeds and how they work check out this article from Google.
Bottom Line: Because the Google Discover feed uses the same information as traditional search, optimizing your site for Google Discover is a low effort, high potential tactic that can help businesses generate greater awareness, interest, and traffic in 2022.
SEO Trend #6: Google Business Profile [Local Businesses]
Local SEO strategy continues to be a critical component of the full SEO picture for many businesses both large and small. As evidence, take a look at the chart below, where you can see Google Trend information for interest in searches including "near me" over the past five years.
Interest of "near me" Searches in the US Over the Past 5 Years


Over the past year interest in searches containing "near me" has been near its peak. And Google Business Profile is one of the best ways for local businesses to show up in search results for this type of local search.
This is nothing new as Google Business Profile (formerly known as Google My Business) has been an essential tool for local businesses for years. And in 2022, the importance of a Google Business Profile hasn't slowed down at all.
Particularly during the past few years of the pandemic, the Google Business Profile has helped local businesses connect with their customers and provide additional information through added features such as health and safety attributes and business highlights such as Black-owned and women-owned.
In November 2021, Google announced the new name for Google My Business. Although the name has been updated to Google Business Profile, the importance for local businesses continues.
In this most recent November name change announcement, there were also other updates announced that make it easier for businesses to update or claim their business profile directly on search. At the same time businesses will be able to chat with their customers via search as well as view call history – a report with details of calls received from their business profile on search or in maps.
Bottom Line: As local search interest continues to rise & rich results become the norm, Google Business Profile will continue as an essential part of any local SEO strategy in 2022.
Pro Tip: For businesses looking to improve upon the performance of their current Google Business Profile, we recommend reviewing these tips on improving your local search rank.
SEO Trend #7: Multimodal Search
Among last year's SEO trends, we talked about search engines improving their language processing and increasing ability to understand the intent behind a search. This leads us to something search engines have been working on that we think will have a huge impact on the future of SEO: multimodal search.
Multimodal search is a way to search for information that might include text, images, audio, or video within a single search. Here's an example: You see a pattern on a blanket that you think you'd also like on a scarf. Wondering if it's available you search on Google for "scarves with this pattern [insert photo of the pattern on the blanket]". What surfaces in your results? Several examples of scarves with the same pattern as the blanket.
This type of complex search using multiple modalities is where search is headed in 2022 and beyond. One of the most exciting announcements of Google I/O back in May 2021 was the announcement of MUM, Multitask Unified Model, a new technology that can understand and return results for these types of searches.
Although this multimodal search technology isn't fully incorporated into how we search today, we expect to see this technology reach searchers in the near future. And in their announcement in May, Google's Pandu Nayak, VP of Search, said "We'll bring MUM-powered features and improvements to our products in the coming months and years."
If those words alone aren't enough, let's go back to our first trend, user experience. Multimodal search, if it works as expected, should only improve a user's experience on search. And anything that enhances the user experience is the goal for search engines and should also be the focus of any high-functioning SEO strategy.
Bottom Line: In 2022, stay tuned as enhancements and updates to search that include multimodal elements using this new technology start to rollout.
How Do The Top SEO Trends 2022 Impact Your Business?
Search engine optimization is a constantly evolving field because of consistent change in user search behavior, but also because of consistent improvement and new technology that allows search engines to better surface the information their users are searching for.
Staying on top of new SEO trends and technologies can help keep your business in front of your customers on search by allowing you to proactively take advantage of these new trends.
Whether you are working on improving your search rank in your local area, finding new customers for your eCommerce store, or generating leads for your business, we hope this list of top SEO trends 2022 helps you get there.
If you're looking for an SEO expert to help you implement these trends, check out Intigress' SEO services. Our SEO team is here to help you reach your goals in 2022.