You may have recently seen notifications in your Facebook Ads Manager Account asking you to prepare your ad account for iOS 14 changes or alerting you of updates to attribution, audience sizes, or the number of events you have in your account. These notifications are all related to a specific iOS 14 update that will include App Tracking Transparency (ATT), which is set to be released sometime this spring.
With all these new notifications, it's clear that Facebook is interested in making its advertisers aware of these changes, but what do these updates really mean for your business and what should you do to prepare?
Here, we'll review the new App Tracking Transparency Framework that is part of Apple's iOS 14.5 update and the subsequent changes to the Facebook advertising platform. We'll cover the impact on current advertising and provide guidance on what you can do to prepare your Facebook advertising for these changes.
What iOS 14.5 Updates Will Impact Facebook Advertising?
The soon-to-be released iOS 14.5 update includes a new privacy setting called App Tracking Transparency. This new setting requires that all apps available in the Apple app store, including Facebook and Instagram, request permission from their users to collect and use their data. More specifically, Apple says:
"Starting with iOS 14.5, iPadOS 14.5, and tvOS 14.5, you'll need to receive the user's permission through the AppTrackingTransparency framework to track them or access their device's advertising identifier."

Source: Apple – User Privacy and Data Use
This update means users on iOS 14.5 will start to see notifications in their apps requesting permission for the app to track and use their data, including to deliver personalized advertising.
Tracking in this new framework includes any tracking linking the app to other third party websites or offline platforms for advertising purposes. It also includes any sharing of user or device data that will be given to data brokers.
Apple hasn't yet specified a specific date on when this update will be released; however, they have said it will be sometime in the spring of 2021.
What Kind Of Impact Will Facebook Advertisers See?
With 68%* of Facebook users in the US accessing the platform only via mobile devices and 97%* using mobile devices to access Facebook at least some of the time, these new app tracking changes could have significant effects for businesses using personalized advertising to reach their target customers on Facebook. *Source: We Are Social / Hootsuite
The impact ultimately depends on how many users opt-in to app tracking once iOS 14.5 rolls out. At the very least, advertisers should expect fluctuation in their Facebook advertising performance as these new iOS 14.5 updates are released to users and the corresponding Facebook advertising changes take effect.
Without the same level of user information & fewer placements for personalized advertising available, Facebook's advertising tools are likely to be less efficient after these changes because more ads will be less relevant. Facebook argues that:
"Our studies show, without personalized ads powered by their own data, small businesses could see a cut of over 60% of website sales from ads."

Source: Facebook – Speaking Up for Small Businesses
How Does Facebook Use Tracking For Advertising?
To get a better idea of the impacts of the iOS 14 update on Facebook advertising, it's important to have a general understanding of how tracking is currently used when you advertise on Facebook and Instagram.
Many advertisers use targeting settings in Facebook to show their ads to relevant audiences. For example, an ecommerce store with women's yoga apparel may choose to refine their Facebook ad targeting to Facebook users who are women and interested in yoga.
To determine which users should be in these interest based audiences, Facebook uses information provided specifically by their users (i.e. you set your gender on your Facebook profile) as well as on & off platform behavior to understand and categorize users by their interests.
On platform behavior may include other Facebook page likes or interactions. Off platform behavior is information Facebook receives from other websites who are using Facebook's business tools, like the Facebook Pixel, for advertising purposes.
Ad Personalization in Practice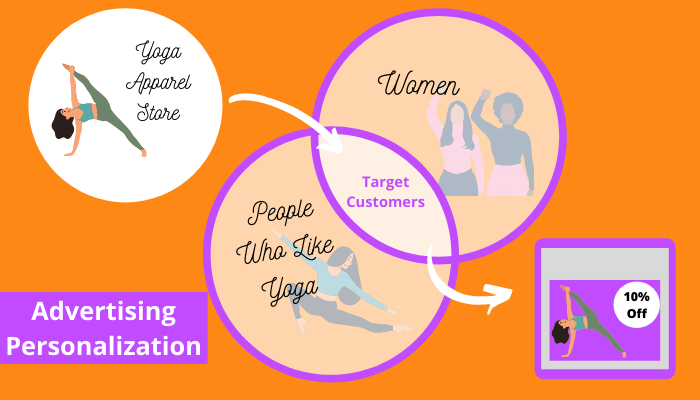 In the yoga apparel store example, the store may also share information with Facebook about website usage and purchases in order to show more relevant advertising to Facebook users.
Here's an example: Facebook user, Jenny, likes this yoga apparel store's Facebook page as well as two different yoga studio pages. Jenny is then shown an ad for the yoga apparel store based on her interest in yoga.
She doesn't click on the ad that day, but remembers the website and visits the site to browse the next day. Jenny adds a few items to her cart, but leaves before finalizing her purchase. This website usage information is passed from the yoga apparel store website to Facebook.
The yoga apparel store uses Facebook to retarget people who have visited their website, but haven't made a purchase. So, a few days later Jenny sees another ad on Facebook for the yoga apparel store with a coupon for 10% off her next purchase. This ad is shown to Jenny because of the off platform information Facebook has received from the yoga apparel store.
If Jenny opts out of personalized advertising and ad tracking after the iOS 14.5 update, the off-platform information won't be sent to Facebook and she won't see the ad with the 10% off coupon. She'll still see advertisements on Facebook, but they are less likely to be as relevant for her.
Once the iOS 14.5 update is live and all users are automatically presented with an option to opt out of tracking, the thought is that the majority of users will choose not to be tracked or have their information used for personalized advertising.
What's Changing Within Facebook Ads & How Does This Impact Your Advertising?
In preparation for the iOS14 updates, Facebook has provided specific information on the changes being made to comply with Apple's policies and user privacy updates. Here are the changes you can expect to see in your own Facebook advertising account:
Note: Here we'll cover changes related to businesses optimizing for web conversion events, not app installs or in-app events.
Attribution Window Changes
The attribution window, or conversion window, refers to the timeframe in which an event (page visit, form submission, purchase, etc.) can be attributed to your Facebook ads. An event may either be attributed back to an ad click (click through conversion) or an ad impression, or view (view through conversion).
Previously, Facebook had an attribution window that ranged from 1 day to 28 days for both click through and view through conversions. This meant advertisers could attribute actions on their website to advertisements that may have been shown to a website user up to 28 days earlier.
Beginning in mid-January, Facebook eliminated the 28 day conversion window and updated its attribution window settings to the following options:
7 days after clicking or 1 day after viewing: Actions can be attributed to ads up to 7 days after a user clicks on an ad or up to one day after viewing the ad
1 day click or view: Actions can be attributed to ads up to one day after an ad click or ad view
7 day click: Actions can be attributed to ads up to 7 days only after an ad click
1 day click: Actions can be attributed to ads up to 1 day only after an ad click
The new default Facebook Ads attribution window will be a 7 day click once the iOS 14.5 update takes effect.
What Does This Mean For Your Advertising?
This attribution change may only have an impact if you have a longer sales cycle or if you were using a longer, 28 day attribution window, previous to the change. If you were using a longer conversion window, the number of conversions you see attributed to ads is likely to be lower with this new update.
While this change may not impact the actual business results, like leads or purchases, that you receive, it can affect which ads look most effective. If you were used to seeing purchases attributed to ads after a few weeks rather than 7 days, this attribution setting may impact your ability to understand which ads and campaigns lead to conversions down the line. This can subsequently hinder your ability to make changes that most effectively improve your ad performance.
Event Reporting Changes
Along with attribution window changes there are other changes being made to when an event is reported. Previously, Facebook reported web conversion events based on the time of the ad impression.
If a person saw an ad to buy a bouquet of flowers online on a Monday and then purchased those flowers on a Saturday, this purchase would be reported in Ads Manager on Monday. This is because Monday was the day the user saw the ad to buy the bouquet.
With the new iOS updates, this same event will be reported on the day that event occurred, or, in this case, on Saturday when the flowers were purchased.
Reporting Delay
In conjunction with the new reporting timing, a conversion reporting delay is also being introduced. Previously, when a new event or conversion occurred, you'd see it show up in Facebook Ads Platform within the hour, after the iOS changes it may take as long as 3 days to be reported
So in the above bouquet example, the purchase event will now be reported as occurring on Saturday, but it may not appear in Facebook's reporting platform until the following Tuesday (3 days later).
This is important to know if you are accustomed to making rapid changes to your ads as you may want to wait for reporting to catch up prior to making ad changes.
Estimated Results
With the new changes, Facebook will also be using statistical modeling to estimate and account for conversions from iOS 14 users when the campaign is targeting website conversion events.
Though Facebook hasn't given a lot of detail on exactly how results will be estimated, this is good to keep in mind as you monitor the results of your Facebook campaigns following the iOS 14 updates.
Fewer Reporting Breakdowns
One feature in Facebook reporting that will be disappearing is breakdowns for certain delivery and actions. These breakdowns allow advertisers to segment their data and provide additional information to better understand audiences and ad performance.
Breakdowns that will no longer be supported in Ads Manager after the iOS 14 updates include age, gender, region, and placement.
To view currently available breakdowns, you can go into the ads manager dashboard and select breakdowns dropdown from the menu on the top right. Here, you can see current options for breakdowns by Time, Delivery, and so on.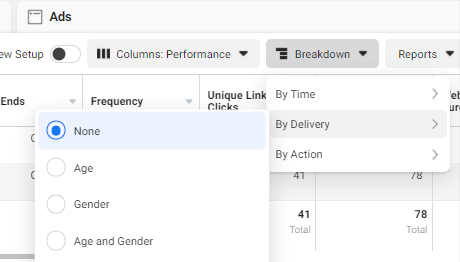 Audience Sizes May Decrease
With more users opting out of personalized advertising on Facebook, custom audiences & other audiences using interest-based and personalized advertising will be smaller. It's even possible that the Facebook Audience Network disappears all together.
This means fewer ad placements for advertisers and potentially rising ad costs if competition remains the same for fewer ad placements.
Here's another example of how the iOS 14 updates can impact audience sizes.
Let's say you have the Facebook pixel installed on your website and you use it to create a custom audience of past purchasers for retargeting. Any iPhone users who have opted out of tracking will no longer be included in your past purchasers custom audience when they are using any of the Facebook mobile apps on their Apple device.
It's unclear if Facebook will update current audiences or stop adding new users to audience lists.
Aggregated Event Management
Aggregated Event Management is Facebook's solution to allow for measurement of web events from iOS 14 users. This system will aggregate web events to comply with user privacy settings and it will only allow for a maximum number of 8 conversion events per domain to be used for advertising campaign optimization on Facebook.
To continue to use the events you'd like, you'll want to configure web events before the iOS 14 updates take effect. Otherwise, ads using events that haven't been configured will be paused.
Event Priority
Keep in mind that with Aggregated Event Management only one conversion event will be attributed per user based on event priority. This means if a customer completed several events during a conversion window, only the highest priority event will be attributed to ads.
Previously, when a user added an item to their cart, initiated checkout, and made a purchase, all three events were reported. After the Facebook changes have been made, only the highest priority event will be reported in Ads Manager, rather than all three events.
In short, you'll likely see fewer reported events than you previously did, when event priority takes effect.
To specify which events take priority over others,
Go to Events Manager
Click on your data source/pixel
Select Aggregated Event Measurement under the line chart
Click Configure Web Events
Select the appropriate domain. You may be asked to verify your domain
Click Manage Events then Edit
You can then drag and drop your 8 events in order from highest (top) to lowest (bottom) priority
Note: Pageview events do not need to be configured or prioritized. It may also take 72 hours for your ads and ad sets to be published after configuring these priorities, and ad sets will automatically stop if you remove any events that are being used for optimization.
How to Prepare Your Facebook Ads for iOS 14 Updates
Although the impact of these changes will be different for each advertiser, there are things you can do today to prepare your advertising for these changes.
Compare Previous Results & Export the Information to Reference in the Future

Attribution Comparisons
Breakdown Information

Verify Your Domain & Set Up Conversion Events For Aggregated Event Management
Consider Using Other Analytics Tools To Better Understand the Performance of Your Marketing Dollars
Be Prepared to See Changes In Facebook Advertising Performance
Compare Results
To understand the impact of these changes on your advertising performance, we recommend looking at previous Facebook advertising results based on attribution and breakdowns.
Check Previous Attribution Results
If you have been advertising, look back at your previous results with a 7 day attribution window to compare performance based on different attribution windows as well as 7 day attribution changes over time.
To compare performance based on different attribution windows:
Login to your Facebook Ads Manager account
Sort on dates from December 2020 and earlier
Click on the dropdown for performance and you'll have the option to "Compare Attributions"
Select the attribution windows you'd like to compare
Look at the differences in results to get an idea of performance changes by attribution window
This will provide you with information on how a shorter 7 day or 1 day attribution window might affect the results reported in your Facebook Ads Manager account.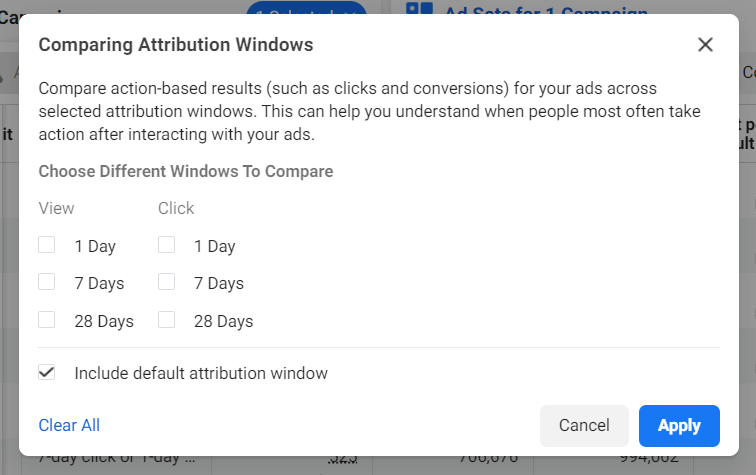 If you want to compare the shorter attribution window over time, select the attribution window you are interested in understanding and select the time period you'd like to compare. Then view results by time to see how the reported performance has changed.
Check Current & Historic Breakdown Information
To get an idea of how many Apple users are seeing your ads you can use the breakdown report. Click on the breakdowns dropdown in your reporting menu and then select breakdown report by Delivery > Impression Device.
This breakdown provides you with information on what devices users are typically using when your ads are shown. If iPhone devices make up a majority of your impressions, this may mean you'll see greater changes to your advertising performance when the new iOS updates roll out.
It can also give you an indication of what percentage or your results might be estimated using statistical modeling going forward.
You can also view this information in the Reports section of Ads Manager by clicking on reports and then selecting report by platform & device. This gives you the breakdown of results where you can see the percentage of spend, impressions, conversions, and more that came from iphone and other Apple devices.
Because some of this breakdown information will be going away with the iOS updates, it's a good idea to export this information in case you want to reference it in the future.
Domain Verification & Aggregated Event Set-Up
You may have seen notifications in your Ads Manager account to verify your domain and select events to use for aggregated event management.
To set up your 8 conversion events, you'll likely need to first verify your domain. Then you can proceed to selecting the conversion events that matter most to your business and set up event priority. Completing this step now, helps to insure you don't experience any unintended advertising interruptions when the iOS changes take effect.
Website Analytics
Instead of relying completely on Facebook reporting, you can use other web analytics tools to understand your advertising performance. We like Google Analytics to track the performance of your Facebook advertising campaigns.
Keep in mind the attribution windows of web analytics tools don't always match, so you're likely to see discrepancies in reported results. As long as you understand the attribution settings of the tools you are using, you'll have more information to use to understand your advertising results. You can use the information reported in Facebook along with the data in other analytics tools to make better decisions about which campaigns are most effective for your business.
If you aren't doing so already, you may also want to ask new users and customers how they found your business. This won't provide you with ad level detail, but it's another method you can use to get a better understanding of how your customers find you and apply that information to more efficiently allocate your marketing budget.
Be Prepared For Fluctuation
At the very least, you should expect to see some changes in your Facebook advertising results. For some advertisers the changes may be minor. For others, especially those that are seeing most results from iPhone users, the results may be more dramatic.
It's important to expect change and be flexible with your ad strategies in order to quickly adapt and find new methods to generate the results you are trying to achieve while respecting the privacy of your customers.
Bottom Line: Impact of iOS14 Changes on Facebook Ads
The real impact for individual advertisers won't be known until the iOS 14 App Tracking Transparency change actually takes effect in Spring 2021. If nothing else, we hope this has helped you to understand that no matter how you are currently using Facebook or Instagram advertising, you should expect to see variation in your results. By understanding the upcoming Facebook changes you're already in a better position to adapt your ad strategies once the updates roll out.
Be prepared to see changes in your Facebook Advertising results over the coming months. Make any necessary updates to your conversion events & tracking in order to avoid any pause in your Facebook advertising and have a plan for measuring future performance metrics. Consider your options and apply what you think will work best for your business.
Don't forget to keep your customers, website users, & app users informed about what/how/why you track and use their information to set your business up for success during what is expected to be a tumultuous time for Facebook advertising performance.
If you need help making any account updates, understanding the potential impact on your advertising performance, or adjusting your Facebook advertising strategy, don't hesitate to contact our team today! We are happy to help you build your advertising to keep your business moving forward.