Feeling frustrated that your website isn't appearing in search results or ranking well for searches related to your business? If you have recently created a website or have just started using SEO for your website, this post is for you. We've created a list of 5 actionable SEO tactics for new websites which you can use to boost the performance of your website in search results to reach more customers and grow your business.
[Note: In our previous post, How to Get Your Website To Show Up Online, we talked about the basic technical criteria that needs to be in place for any website, new or old, to show up in search engine results. If your website is not showing up online, we recommend you start by reviewing the information in that post, then move on to the five SEO tactics for new websites included here. The results you see after using the tactics described here will be even better if your website's basic technical foundation is in place.]
Actionable SEO Tactics For New Websites
In order to increase the ranking of your website and reach more customers online, you will need to make use of search engine optimization. While there are many different SEO tactics and many different ways to go about using SEO for your business, here we will explore five practical SEO tactics you can employ for a new website.
Let's get started.
#1 Check Your Content & Keyword Research
After you've checked the boxes on the basic technical elements your website needs to have in place to show up in search results, the next step is to look at the information on your pages (i.e. your content).
You may have heard that content is king. At Intigress, we believe that your website users are royalty and the content you provide should be created to serve them. The best thing you can do with your content is to make sure that it is relevant to the users who are entering searches for which you'd like your business's website to appear. If you haven't done so already this is where it will be worth your time to do some keyword research to find out what your users are searching. Once you have this information, you can use it to make your content more relevant.
To begin your research, start by writing down the web searches for which you'd like your business to appear.
Next enter those searches into the various search engines. Look at the results. These results are the competing websites. The ones that the search engines have currently determined will be most helpful for users who type in the search queries relevant to your business.
Take time to read and look at the information on these pages. Write down any relevant keywords and topics that you find appearing on these pages. Chances are if you see similar information, phrasing, or words on multiple sites that are currently on the first page of results, these are important for you to note.
An SEO keyword is a word or phrase that is important and relevant to a business, which is used to search for the products and services that business offers. A keyword can be a single word, a phrase, or a broad topic. As an example, a very broad keyword for a veterinary practice is "veterinarian". More specific keywords related to a veterinary practice would be "veterinarian in Chicago", "24hr vet", "emergency vet services in Lakewood", among others. For more information, see our post on types of SEO keywords.
Also, pay attention to the flow, amount of information included, and ease of reading on these top-ranking pages. If your website isn't providing more clear, more detailed, or more relevant information, you'll have a harder time getting your website to rank above these top websites. 
When you perform your searches, also look at the information in the "People Also Ask" and the "Searches Related To" sections on the search engine results pages. These two areas will give you insight into how people are actually searching and other topics you can cover on your website to be more relevant and more helpful.
Pro Tip: Another great tool for keyword research is AnswerThePublic.com.
After you've done this, take a look at your original list of searches and the new search terms you've just added. Now, refine the list of searches that you'd like to show up for by connecting each search or search topic to the one page on your website that would best answer this search. Remember, your goal is to find what people are looking for and create better content to answer the intent of their search queries.
If you find that you have multiple pages answering a single search OR you have one-page answering multiple searches, you will need to eliminate or add search terms to your website so that you have one search or idea per page. Make sure you are covering all the topics that are most important to your business and your customers.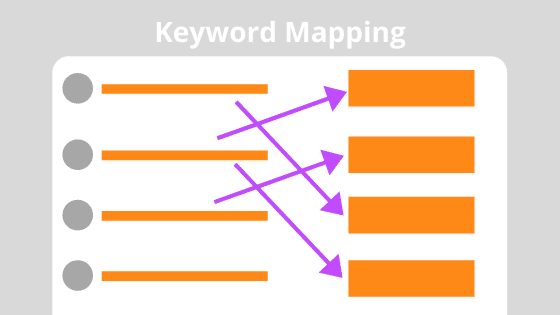 This is known as keyword mapping and it is one of the best SEO tactics for new websites as it will help you to realize where you may have overlap or gaps in the information on your website. We highly recommend you take the time to create this map as it will go a long way in helping you create great content with information that is relevant for your customers.
#2 Enhance Your Content
Now that you have your content organized, it's time to take a look at the content you have on your current website and make sure that it aligns with your plan. Using this search engine optimization tactic for your new website, allows you to provide more relevant information for your users while at the same time helping search engines understand the information on your web pages.
Here are 4 key questions to ask about your content to help your website rank on search engine results pages:
Are the keywords you mapped to each page on the page?
Include the keywords in the page copy, page title, page headers. It is also a good idea to include them in the captions for any images you have on the page.
Are the keywords you mapped also in each page's meta information?
This is the information that appears on the search engine results page.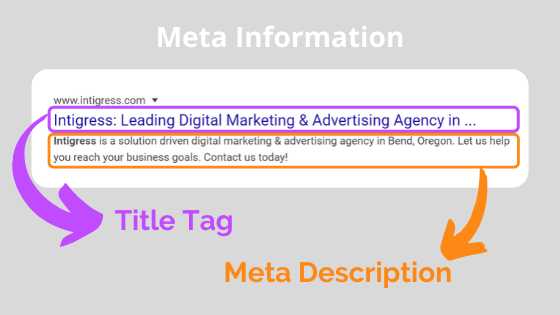 This information is what a potential visitor will see before visiting your website. This information should include the keywords and information that will tell potential website users what they will find on your page and how it will be helpful for them to visit your website. This information also includes the alt text of the images on your website.

Does your page have more detail, is it more helpful, does it more fully answer the related search queries than the other pages that are currently ranking on the first page for your key searches?
If you aren't adding something new or answering questions in a more concise and helpful way than other websites appearing in the search results, it will be more difficult for you to rank higher than these sites for the same searches.
Is there a clear call to action?
When a new user visits your pages, is it clear what action they need to take to make use of your services? If you are hoping to have appointments scheduled, is it clear how to schedule an appointment and easy to do so? If you would like purchases on your web page, can you reduce the number of clicks it takes to complete the purchase? If users need to contact you to start working together, have you told them the best way to get in touch? Are your contact details easy to find?
Without a clear call to action, it will be difficult for your website users to become customers. Be sure to check that each page is pointing to a clear next step to get the best results.
The content on your page is an incredibly important portion of your search ranking. It is also what will get your website users to convert after they've been to your website. Generally the more in-depth and helpful information you can provide, the more likely users are to stay on your site and return to your site, which will not only help your ranking, but also your conversion rate.
#3 Make Sure Everything is Working
This may seem like a given, but you'd be surprised how often this step gets skipped. Even if you did this before you published your website, you have likely made changes and will want to check again.
Once you've updated your site with relevant content and confirmed other technical SEO items are in place, take the time to make sure that everything is working.

Check all of your links are working
Make sure every page loads
Submit a test contact form
Double check that your business information is accurate
Read the information on your pages
If there are errors in your contact details or one of your main links is broken, this won't help your website ranking in search results because it is not providing a great experience for users. Take the time to look over your new site, ask a friend or family member, or even past or current customers to look it over and send you their feedback.
This is one of the most important and least complicated SEO tactics for new websites and we highly recommend you take the time to make it happen. In fact, even when your website is no longer new, we recommend you regularly check to make sure everything is working properly.
#4 Set Up Relevant Business Profiles
Your business's online presence consists of more than just your website. There are a number of business profiles and online listings that provide information about your business and brand. These business profiles can include social media pages on LinkedIn, Instagram, Facebook, Reddit, Twitter, Pinterest, or business information on listing sites like Yelp or Yellow Pages.
Pro Tip: Even if you don't plan to use social media, it is still a good idea to create an account for your business under your business name on social media sites so that no one else does. If you leave the name available, someone else can create a listing under the same name and it can cause confusion in the future. 
Beyond social media and listing sites, your business listings also include those listings on the search engines themselves: Google My Business & Bing Places for Business. These search engine listings are even more important if you have a business serving a local area, as this is what can help your business to appear in the map listings (aka map pack), and can help you appear for searches specific to your area including terms like "near me" or "in [your town or neighborhood]".
The business listings that you set up can also include industry-specific listings like Healthgrades for doctors or Houzz for certain home improvement and design professionals.
When you set up your business profiles, make sure that you are including your secure website link (starting with https) and all of the information you include is consistent. Use the exact same business address, the exact same business name, the exact same phone number, the exact same category of business, the exact same business hours across all of your listings.
Pro Tip: Exactly the same phone number means using the same phone number format. For example, (555) 555-5555 is not the same as 555-555-5555.
Keeping this basic business information consistent across your profiles will help search engines realize that each of these is referring to your particular business, which will help your brand presence in the future. It will also create a better experience for customers.
In addition, when your website is brand new, it can take time for your website to appear in the search results; however, when you create a listing on an already established website this profile may appear higher in the results in the beginning than your own website.
Moreover, using common platforms or review sites such as Yelp allows you to reach potential customers who go directly to these trusted platforms to look for businesses offering the product or service they need. This broadens your reach and gives you the opportunity to direct these users to your website with the link in your profile, leading to more traffic, and greater brand awareness.
#5 Set Up Tracking (Google Analytics)
One of the SEO tactics for new websites that you don't want to skip in the beginning, is to set up tracking.
While tracking is not going to directly help your website to appear on search engines, it will help you to understand how users find your website and allow you to make more informed decisions about your online marketing efforts in the future.
Google Analytics is a free tool you can use to track website usage to make more informed decisions about your website and online marketing efforts. Read our full introduction to Google Analytics for more detailed information on what you can track, benefits, and more.
Once you have tracking set up you will be able to monitor information such as how much traffic your website is receiving, where your traffic is coming from, what pages users visit, how long users spend on your website, and much more. You can also set up events and goals to monitor actions that are important to you on your website. For example, if you would like users to submit contact forms, you can set this up as a goal in Google Analytics to determine where your most valuable users are coming from.
Bonus: Advertise
As with any other new business, it is better for you to proactively get the word out about your new website and your new business. You can do this via traditional means such as networking, event sponsorships, radio, or tv ads; however, you can also do this via online advertising.
To drive users to your new website, online advertising is the fastest way to do so as your ads are designed to reach people who are already online. A user who sees your ad only has to click to visit your website. This drives traffic and brand awareness, while your organic website presence is growing.
Pro Tip: Many new online advertisers use boosted posts on Facebook to advertise their business; however, we don't recommend boosting a post on Facebook as a means of advertising. 
Search advertising, including Google Ads and Microsoft Advertising, is often the most practical and efficient way to reach customers as you can choose to show your ads to people when they are already looking for the type of product or service your business offers.
You can also choose to use social media advertising or display advertising. Depending on your industry, budget, and the audience you'd like to reach, you may choose to combine social media ads, display, and search ads in order to build awareness for your brand while your organic presence continues to grow.
Combining advertising with each of the other SEO tactics for new websites we've covered here, will give your business and website the best chance of attracting customers right from the start.
[Note: Want more information on using PPC & SEO together? Check out our post on how PPC & SEO work together to supercharge performance.]
Conclusion
As your website is new, it can take time to start showing up on Google or in the search engine results; however, once you have implemented these SEO tactics for new websites, your business will have a solid foundation to build upon. Remember that search engine optimization is not a one-time task, it is something that you will need to work on consistently in order to see the best results.
If you have questions or would like to speak with an SEO expert, please don't hesitate to contact us today or learn more about our SEO services.