There are tons of free SEO tools out there designed to help aspiring SEOs, DIY business owners, and webmasters alike improve their search engine performance and reach their ideal customers. But, with so many tools on the market, how do you know which are the best free SEO tools you could be using? Our SEO team put their heads together to come up with this list of the BEST free SEO tools you can use to improve your search performance and grow your business in 2023.
We've separated the list into categories based on what the tool is best used for to make the list easier to use. We've also included for you a bit of information on why we recommend the tool so you have an idea if it's right for you. Here are the types of tools we'll cover.
[This post was originally published in February 2021. It was last updated February 2023.]
If you'd rather just view the complete list of the best free SEO tools, you can scroll to the bottom.
Best Free SEO Tools For Performance Tracking
Without any tracking tools, it'll be hard to understand if any of your SEO efforts are doing anything to move you closer to your business goals. So we'll start with the best free SEO tools for tracking your website performance.
Google Search Console
While Google Search Console does so much more than track your search performance, it is still one of the best tools for tracking organic Google search rankings and performance. It's easy to set up Google Search Console, and once you do, you can use the performance report to track Google search performance metrics like organic impressions, rankings, click-through rates, and much more.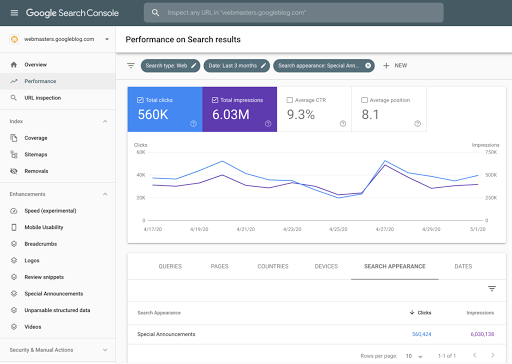 Bing Webmaster Tools
Bing Webmaster Tools is Bing's version of Google Search Console. Although this free SEO tool has tons of great features you can use for improving SEO performance, you can use it to better understand your organic Bing search rankings with information like search queries your site matches with, number of organic impressions, and much more. Here are instructions to help you set up Bing Webmaster Tools for your website.
Google Analytics 4
Google Analytics 4 is a free tool used to collect information about how people use your website. For SEO purposes, you can use this information to understand what happens after a user clicks on your organic listing and compare results from other website traffic sources to find out which keywords are bringing the most engaged users.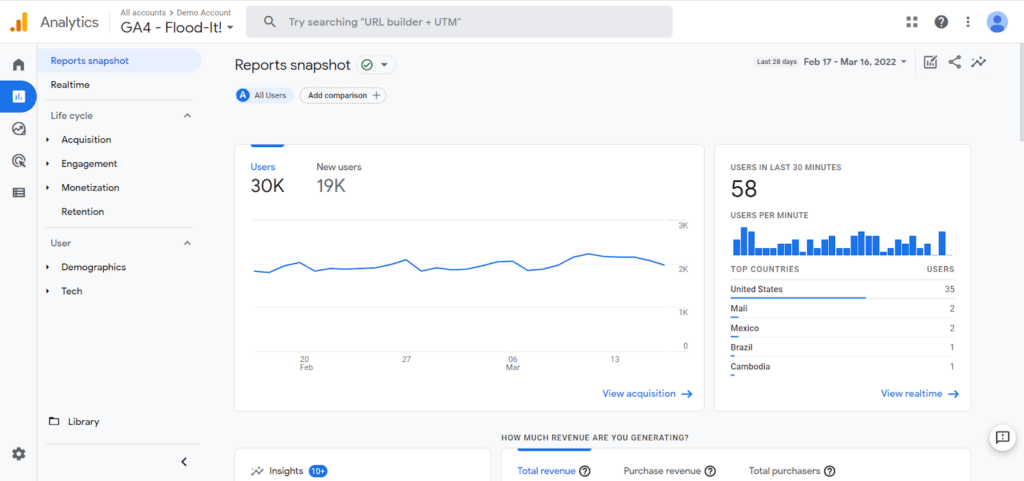 There are endless ways to use the information in Google Analytics to improve the returns of your SEO and overall digital marketing results. To get started you can sign up for a Google Analytics account here, or take a free beginner's course before diving in. 
You may also find our other Google Analytics guides helpful:
Google Merchant Center 
This one is only applicable for ecommerce brands; however, to track the performance of your products in organic Google shopping results, you can set up Google Merchant Center and connect a product feed. You'll get access to information about which products are showing in organic results, the number of clicks by product, and more; All completely free of charge.
Best Free SEO Tools for Technical SEO 
Technical SEO is the crucial foundation for SEO success. Without proper indexing & crawlability, your site won't be appearing in any search results. Once you've insured those are in order, you want to make sure that your site is functioning (no broken links or error pages), or at least meeting the best practices for known ranking factors, like mobile-friendliness and site speed.
Screaming Frog
Screaming Frog SEO Spider enables users to check the http response of all the pages and links on a website. It is a spider that crawls and identifies all the links on a website and makes it easier to find broken links and non-functional URLs that should be updated. The free version is likely all that is needed for most users as it has a 500 URL crawl limit.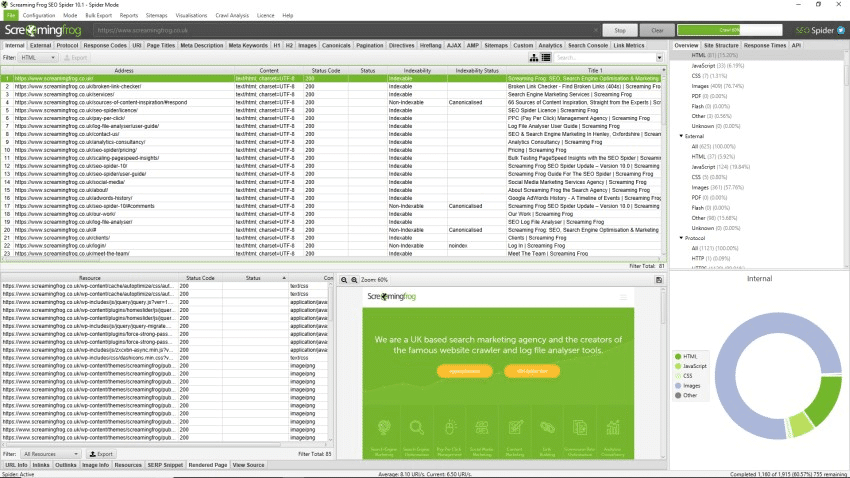 Redirect Path
Redirect Path is a free chrome extension that allows you to quickly see the redirect path of any URL. It flags and visualizes if the page that you're on had any redirects along its load path and will also give you the http response/status codes.
Sucuri Malware & Security Check
Sucuri offers a free website malware and security checker that lets you enter in any website to see if there are any malware, viruses, blacklisting, website errors, out-of-date software, or malicious code. It's extremely effective and finds more than you think, even if you use HTTPS.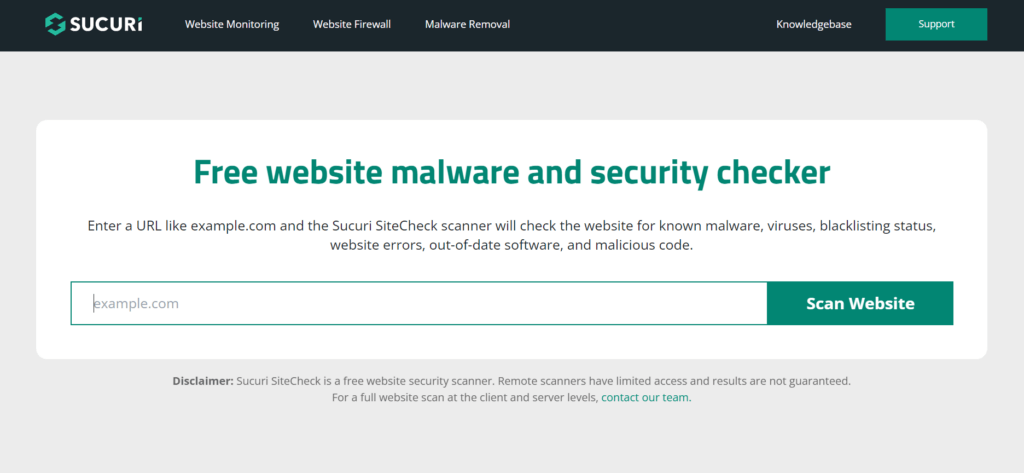 Best Free Mobile Friendliness Testers
With an increasing number of web users accessing the web via mobile devices and the corresponding movement to mobile-first indexing, it's imperative that websites be mobile-optimized. These two free tools will help you to understand exactly what it is you need to do to enhance the usability and performance of the mobile version of your website. 
Google's Mobile-Friendly Test
Google's mobile-friendly test is designed to test the functionality and usability of your website on mobile. If there are any issues such as text that is too small or clickable elements too close together, the mobile-friendly test will let you know so that you can fix them. This information is also available in Google Search Console too.
Bing's Mobile Friendliness Test
Bing's mobile friendliness test is similar to Google's; however, by using both of these free SEO tools, you can be sure that both search engines conclude your website is mobile-friendly.
Best Free SEO Tools for Core Web Vitals & Page Speed
Known ranking factors are few and far between; however, we do know that both page speed and (soon) core web vitals will be incorporated into Google's website ranking signals. These are our picks for the best free SEO tools to help you measure these page experience signals, so you know what your site is doing well and what you can improve.
PageSpeed Insights
This free tool tests the speed of a website and will let you know what can be done to improve page speed and load times. PageSpeed Insights will give your website a score for each of the three Core Web Vitals for both mobile and desktop versions. 
GTMetrix
GTMetrix is another page speed testing tool that incorporates Core Web Vitals in its free reporting. You'll also receive a score on GTMetrix along with recommendations on what you can do to improve your score. GTMetrix also has a feature to compare your site performance to others in your competitive set.
WebpageTest
WebPageTest is quickly becoming one of our new favorite tools for testing page speed and Core Web Vitals because it gives so much information and allows you to change the device type (mobile or desktop) used when testing page speeds. It also runs the test speed tests 3 times which allows you to analyze the average of those tests or individually. This can help take into account actual page timings and account for page caching.
Web Vitals extension
The Web Vitals extension is a browser extension that allows you to see the Core Web Vitals stats of any website in a single click. A convenient addition to test these ranking signals.
Structured Data & Rich Results Tests
One of the top SEO trends of 2021 and 2022, structured data & rich results are increasingly important tools you can use to improve your website ranking. Use these tools to help you understand current rich results performance as well as test and create new structured data on your website.
Schema Markup Generator
The Schema Markup Generator by Merkle enables non-coders to generate schema markup for specific categories which can then be copied and pasted onto the website. Super handy!
Rich Results Test
The rich results test allows you to enter any website to understand which rich results it may be eligible for. With the rich results test, you'll be able to determine if you've implemented your structured data correctly.
Best Free Keyword Research Tools
After checking indexing issues, keyword research & planning is the next step in any high-functioning SEO plan. Here are our top SEO keyword research tools to help you in the keyword research & selection process. 
Google Ads Keyword Planner
This one is on everyone's list because not only does the Google Ads keyword planner help you find organic keyword ideas, but it also gives you an estimate of monthly search volume and how competitive the keyword is on paid search. If a keyword is highly competitive in the paid realm, chances are the organic competition is also stiff.
Note: You must create a Google Ads account to access this tool, but you don't have to actually spend anything on ads.
Google Trends
Google Trends will provide you with the overall trends on topics you enter. You can filter the trends by location and timeframe. You'll also be able to find any trending searches related to your topic. 
Answer The Public
Type in a topic and instantly receive hundreds of keyword ideas presented as questions, comparisons, with specific prepositions, and more. Couple Answer The Public results with the power of Google Ads Keyword Planner and you can create a pretty solid keyword plan, completely free of charge.
Ubersuggest
Ubersuggest's strength is not in the volume of keyword ideas provided, but in that it automatically gives you estimates on each keyword suggestion's volume, search ranking difficulty, content ideas based on current results, and more. The free version of Ubersuggest doesn't give you all the goods, but it's enough insight to be helpful and save you some time. 
LSI Graph
LSI Graph is similar to Ubersuggest in that it gives you competitive information along with keyword ideas. Between the two, LSI Graph's free version gives you a higher volume of keyword ideas, but both free versions are worth taking a look at for ideation.
Keyword Surfer
Keyword Surfer is a browser extension that gives you keyword volume data and similar keyword ideas right on the search engine results page. The ultimate tool in convenient keyword finding.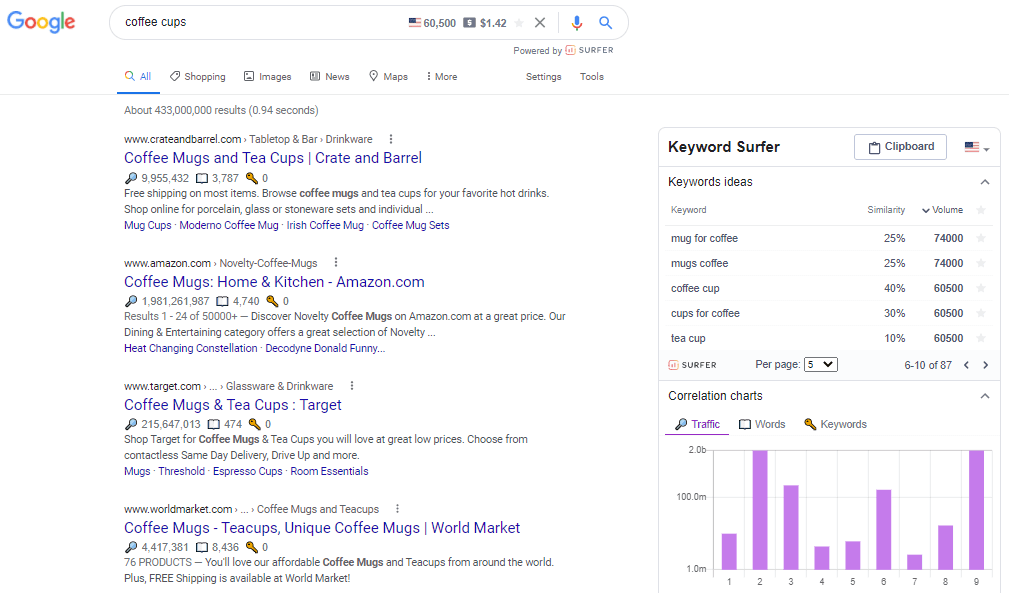 Best Free SEO Writing & On-Page SEO Tools
Without the content, there would be no ranking. You can use these free SEO tools to make sure your on-page SEO performs at the highest level.
Rank Math WordPress Plugin
This one only applies to WordPress websites. RankMath is our new favorite free SEO plugin and is what we use on our site. Advanced SEOs (people) will love it because it is the most complete SEO plugin that we've found, but it is simple enough for even a beginner to use it. Like Yoast (see below), RankMath is regularly updated and there is a paid version, but the free version gives you more than you'll likely need.
Yoast WordPress Plugin
This also applies to websites built on WordPress only. Yoast is another great SEO plugin because it does a lot of the basic SEO work for you. It also make it super easy to update the title tags, meta description, and URL slugs, and a lot of other technical SEO components like noindex. The plugin is regularly updated and there is also a paid version; however, the free version provides a lot of functionality. You can also use Yoast's Real-Time Content Analysis for free on any text, even if you don't have a WordPress website.
Grammarly
Grammarly is an online writing assistant that checks your grammar, spelling, tone, and more all for free. These features make it a great free tool for SEO content writing, but it really applies to any writing you might do. We like to use the free Grammarly chrome extension for easy content checking or use their free online editor.
Hemingway Editor
Hemingway Editor is a free online editor, similar to Grammarly, that visually points out ways to improve your writing. It gives you an estimated reading level and reading time, word count, character count, letter count, number of sentences and paragraphs, and more. It color codes the mistakes it finds, but it doesn't suggest ways to improve your writing like Grammarly does.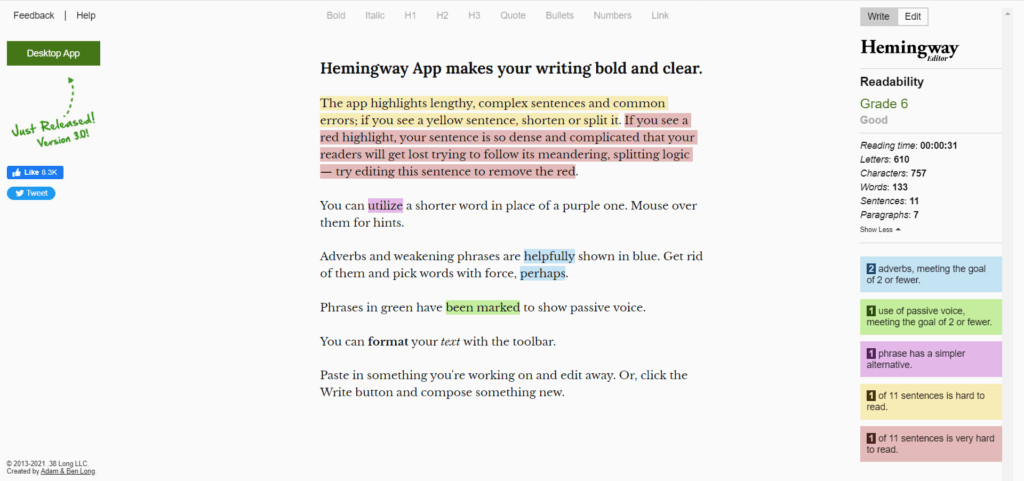 Copyscape
Copyscape is an online plagiarism checker, which you can also use to find duplicate content and anyone who may have published your original content without your permission.
Moz Title Tag Preview Tool
With the Moz Title Tag Preview Tool, you can get a preview of what your title tag will look like in search results and quickly determine if the length of your title tag is appropriate or if you need to make changes.
Best Free Backlink Checkers 
Backlinks are a powerful SEO tool that can help you build expertise, authority, and trust with your audience (aka E-A-T). In addition to Google Search Console & Bing Webmaster Tools, you can use these free SEO tools to check the number of backlinks to your website.
Moz Link Explorer 
With Moz Link Explorer you'll have access to view linking domains, backlinks gained and lost, changes in page or website authority over time, and more. There is also a paid version of this tool, but the free version provides important topline information you can use to understand your backlink profile. Bonus, you can use it to search competitor websites to uncover new backlink opportunities for your website.
BrightLocal's Listings Scanner
This one is great for local businesses to check the accuracy of their current business listings. BrightLocal's Listings Scanner can also be used to uncover new sites that might make sense for business profile creation to broaden your local listings profile.
SEO Meta in 1 Click
The free SEO Meta in 1 Click chrome extension gives you a quick snapshot of some basic on-page SEO information. Instead of searching the page source to find information such as your title tag, meta description, headers, image alt text, and link anchors, you can click once and have all of this presented to you. It also provides many helpful links to other great SEO tools. 
Best Free Competitive Analysis Tools
Spyfu
Spyfu is an impressive free tool that can be used to understand how your website ranks versus other websites, where there is overlap, who your top competitors are, recent keyword ranking changes, and so much more. The free version of Spyfu doesn't give you access to all the information, but it's a great starting point.
Moz Domain Analysis
The Moz Domain Analysis Tool gives you information about top-ranking keywords, pages, domain authority, backlinks, and more for any website you want to know about. You can use it to check your website information or that of your competitors to find opportunities for improvement in keyword rank, backlinks, and more.
BrightLocal Local Search Results Checker  
The Local Search Results Checker is a great tool to get a live look at how your website ranks versus others in a certain location. Because search results vary by location, this is great tool to check live results if you are not in the location you'd like your business to be ranking. Keep in mind search results can change by location, day, browser history, and more, so the Local Search Results Checker can give you an idea, not the full picture, of local search competition & performance. 
Other Free SEO Tools
Way Back Machine / Archive.org
Way back machine is an archive of website history, so you can essentially go back in time and see what a website looked like 6 months or 6 years ago. This can be helpful for competitive analysis as well as understanding previous website performance changes. It even lets you archive a page now if you know you'll want to look back on it later or suspect a competitor is testing something.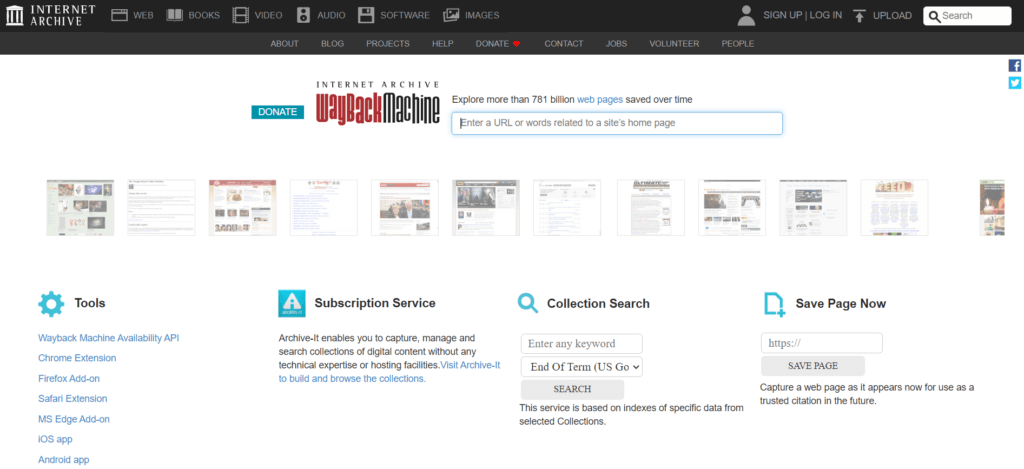 Advanced Search Operators
This is like 20+ tools in one. There are so many ways you can use advanced search operators for SEO. We won't go into all the details here because Ahrefs has already covered the full list of advanced search operators. Definitely check it out for some creative ideas on how to use advanced search operators to improve your SEO.
Best Free Tools for Learning SEO
And last, but not least, if you are interested in learning SEO or improving your current skills, check out our top three picks for SEO education.
Moz's Beginner's Guide to SEO
Seven chapters of SEO goodness designed to give any SEO beginner the knowledge they need to get started. If you don't have the time for it all you can easily pick and choose the topics you want to learn more about. Find the full SEO beginner's guide here.
Google's SEO Starter Guide
Google produced a comprehensive guide outlining SEO best practices for beginners. Designed to help website developers, business owners, and SEO professionals better understand how to make sure their websites are indexed, crawled, understood, and easy to use. We'd recommend it to anyone hoping to improve their SEO understanding and skills.
Google Search Quality Raters Guidelines
The Google Search Quality Raters Guidelines is the document that instructs Google's website quality raters on how to rate and rank websites. Google quality raters are real people tasked with looking at websites and providing their human rankings, which are then compared with algorithm rankings to make improvements and updates. If you're familiar with E-A-T (now called Double E-A-T or E-E-A-T), this is where that comes from.
This is a hefty document, but for anyone interested in getting into the details, it's choc full of context on how Google determines what a highly rated website is.
The Complete List of 38 Best Free SEO Tools [2023]
What's the best free SEO tool you like to use? Let us know in the comments below!